Digital Panel Specifications
---
Bulk Milk Cooler Panel
Technomond Steel Industries is announced new and latest Bulk Milk Cooler Digital Panel. We are manufactured bulk milk cooler with new digital panel. It is so easy operate to BMC and long time working panel.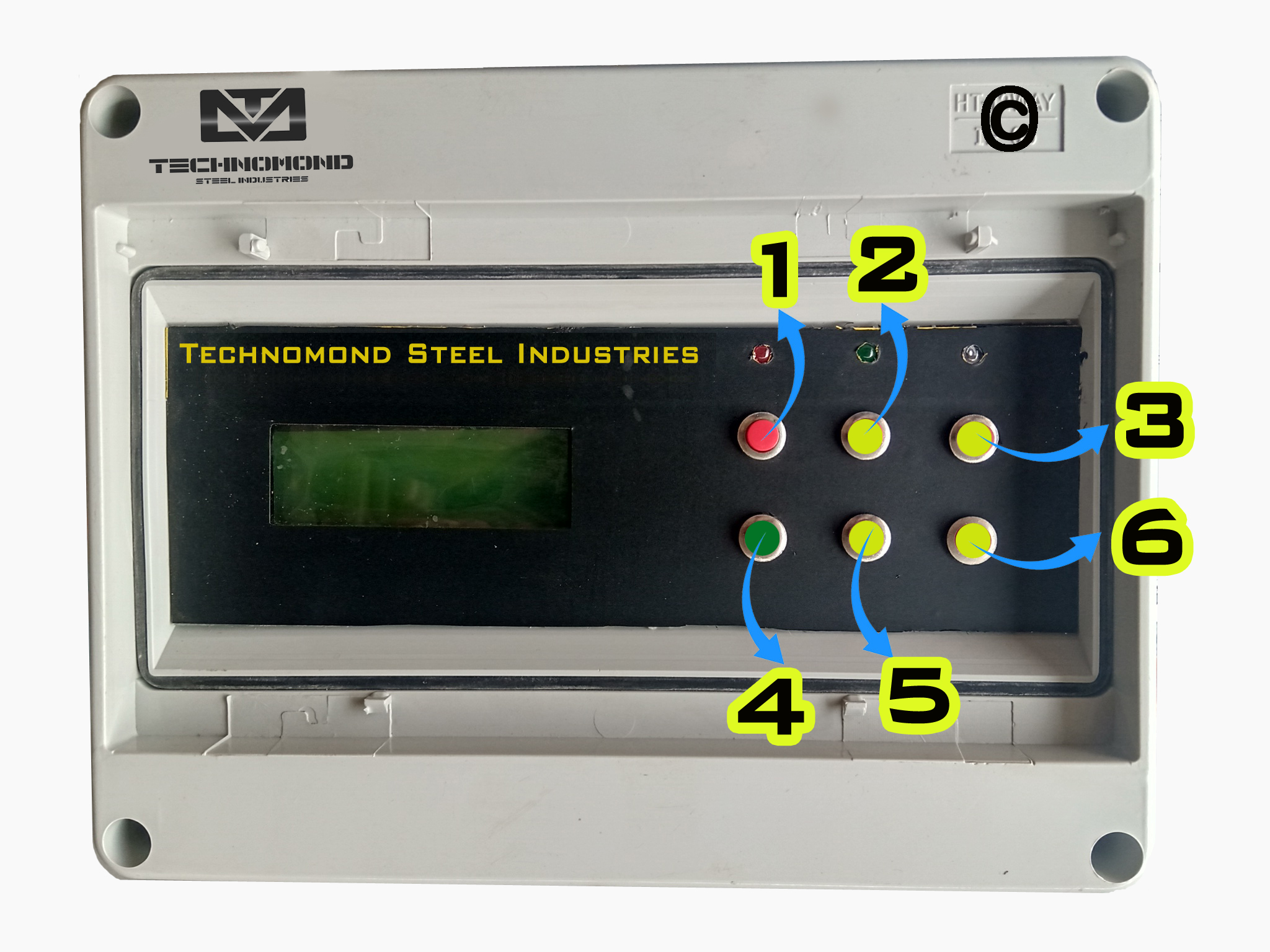 1. (Red Button) : Bulk Milk Cooler Switch ON / OFF
2. (Yellow Button) : Compressor Switch ON / OFF
3. (Yellow Button) : Agitator Switch ON / OFF
4. (Green Button) : For Compressor and Agitator Setting
a). Setting for Compressor Temperature like a 4 deegree or 6 deegree.
b). Setting for Agitator timing
5. (Yellow Button) : UP Button
6. (Yellow Button) : Down Button
(Manage machine temperature and agitator timing by UP and Down Button)
---
---
Voltage Stabilizers
Stablizer is compulsary for BMC Machine, check stablizer according to BMC Capacity in single phase or three phase electricity supply.
---
| BMC Capacity | Single Phase | Three Phase | AC in Tone |
| --- | --- | --- | --- |
| 200 Litre | 3 KV | - | 1 |
| 300 Litre | 4 KV | - | 1.5 |
| 500 Litre | 4 KV | - | 1.5 |
| 1,000 Litre | 6 KV | - | 2.5 |
| 2,000 Litre | 12 KV | Servo 6KV | 5 |
| 3,000 Litre | 14 KV | Servo 8KV | 6 |
| 5,000 Litre | - | Servo 10KV | 15 |
---
---
Milk ATM Machine Panel
Technomond Steel Industries
1. (Red Button) : Bulk Milk Cooler Switch ON / OFF

---

---