Road Milk RMT Tanker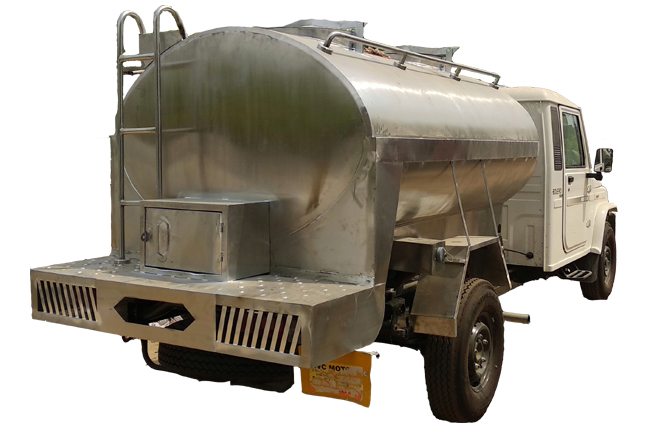 Road Milk RMT Tanker
Technical Details :-
Capacity Range : 300 Ltr to 2,000 Ltr


Material : SS 304/316


Special Feature : Glass View at Manhole
Road Milk RMT Tank Manufacturers
We manufacture and Supply Road Milk RMT Tank in different capacities, Manufactured by the professionals of our vendors using advanced technology and quality raw material in adherence with the international standards. These milk tankers are widely used for transportation of processed milk. Due to the perishable properties, these trucks are fitted with a tanker. Moreover, these tankers are specially designed at the vendors' end in such a way that filling and draining of milk becomes easy.
To ensure the high quality standards of our milk tankers, we use food grade stainless steel 304 with cip sprays and SS ladders in its manufacturing process. Widely used in dairy industry, our milk tankers are offered in different capacities to meet different requirements of our customers. These tanks assist in simple transportation of Road Milk RMT Tanks via different road routes. Its impeccable construction ensures no leakage along with retention of the temperature inside the tanker, at which the milk sustains its original properties.
Road Milk RMT Tank Suppliers
We are offering supreme quality Process Tank that is constructed using prime quality metal. These are primarily demanded by various dairy industries for storing and transporting milk from one destination to another. Moreover, we apply high grade raw materials in this tank that keeps the fluid inside fresh and free from any contamination. Our Road Milk RMT Tank Suppliers are built using latest technology and are demanded throughout the country. The tanks are available in different capacities as per the requirements of our customers. Further, these are tested under several international parameters before supplying in market.
Our company Road Milk RMT Tanks Manufacturers from high quality food grade stainless steel 304 with CIP sprays and SS ladder. Our offered tanks are widely used in dairy industries for their robust built, corrosion free body and leakage proof construction. The milk remains contamination free and fresh in these storage tanks during transportation. These are customized in various capacities as per the demands of our clients.