Water Vending Machine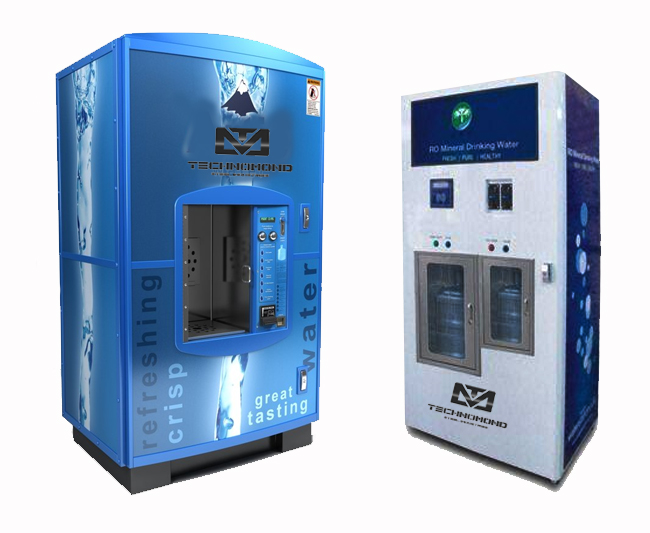 Water Vending Machine
Technical Details :-
Capacity Range : 100 Ltr to 5,000 Ltr


Insulation : PUF Insulation


Calibration : Card and Coin


Special Feature : RO System and Chiller (If required)
Water Vending Machine Manufacturers
We are engaged in manufacturing a wide range of Water Vending Machine, coin operated water vending machine and water ATM machine as per client requirement. These machine are made from superior staniless steel corrosion resistance and protected again dust, weather and bacteria. These system is available as competitive price and very easy to install any place. These system is wildly use in railway station, bus station, school, hospital etc. These coin operated Water ATM Machine Manufacturers gives your customer 24 hours a day access to fresh drinking water.
A Water ATM Machine Suppliers is an automated water vending machine that dispenses pure drinking water. It can be installed in urban and rural localities which do not have access to clean and pure drinking water. A water vending machine works like any regular bank ATM, the only difference being that it provides Water Vending Machine Manufacturers instead of money.
Water Vending Machine Suppliers
Capitalizing on the competence of our dexterous personnel, we are enthusiastically immersed in presenting an extensive spectrum of Smart Card Water Vending Machine. Under the command of skilled personnel, these offered machines are widely recommended. Also, these are presented by us in a plethora of sizes and dimensional provisions at affordable costs. Prominent & Leading Manufacturer and Supplier from India, we offer Water ATM Machine Suppliers such as Smart Card Water Vending Machine, Mineral Water Vending Machine, Drinking Water Vending Machine and Coin Operated Water Vending Machine.
You can rely on us for all the online and offline transactions, we have stringently made payment logs to make sure that no misunderstanding or inconvenience arises. As we keep quality at the top of the list of our primary concerns, we maintain a stringent quality management system. Key Features: The Water Vending Machine allows a customer with a bonafide charge card to get purified drinking water automatically 24 hours a day.
We have well-connected and capacious warehouse that helps us in arranging Water Vending Machinee products systematically to deal with urgent deliveries and orders. Our exceptionally good warehouse system helps us in keeping the products safe till the final dispatch. Due to our streamlined packaging system, we are capable of meeting both standard and customized packing needs of the clients. Moreover, we make use of quality packaging.