Water Vending Machine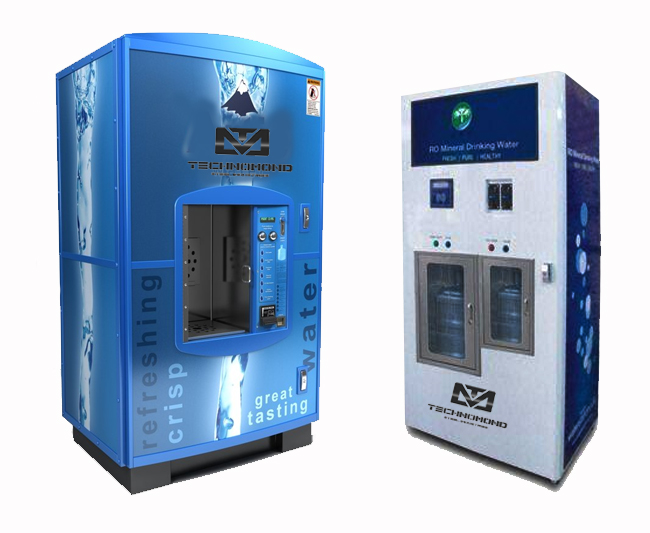 Water Vending Machine
Technical Details :-
Capacity Range : 100 Ltr to 5,000 Ltr


Insulation : PUF Insulation


Calibration : Card and Coin


Special Feature : RO System and Chiller (If required)
Water Vending Machine Manufacturers
We are engage widely manufacturer Water Vending Machine with coin and cash according to customers requirements. These machines are made with 304, 316 stainless steel leak resistance and save against dusk, weather, rain and becteria. This system machine is available lowest and best price in Technomond Steel Industries and you can install easy to any place of World. Water Vending Machine is widely used at Metro Station, Bus Station, Railway Station, Hospital, School, Mall, Events etc. You can give pure and fresh water of your customers. We are design new and latest for attract customers.
Water Vending Machine Near Me
This Machine is completely automatic Water Vending Machine Manufacturers By which you can dispenses fresh RO drinking water. You can installed all rural and urban localities like metro, railway staion, bus stand, events etc. which do not have approach clean and fresh RO water. Water Vending Machine works like a Bank ATM and dispenses cold drink machines. Both machines are only one difference that is provides water instead of money.
Water Vending Machine Project
You can believe on all offline and online money transactions on us. We have stiffly to process of online payment mode that no misunderstanding and customer do not get inconvenience during payment. We give primary anxiety to keep high grade quality Water Vending Machine for customer satisfaction. We manufactured water products machine with prime quality maintain system. Water Vending Machine allows with a Factual charged by card and coin accepteor machine and get fresh purified drinking water 24 hour a day automatically.
Water Vending Machine IRCTC at Railway Station
We are desing and manufactured automatica and manual Water Vending Machine at Railway Station. We have Metro Smart Card machine. Customer can dispense water by coin, cash and smart card. We are made stainless steel material Water Vending Machine IRCTC. We are install hundred plus machine in railway station and metro station. We can sale by any time water vending pure and fresh water with RO. Passengers can get fresh RO purified water. We are design according to IRCTC standards and easy to maintain.