Tilting Bratt Pan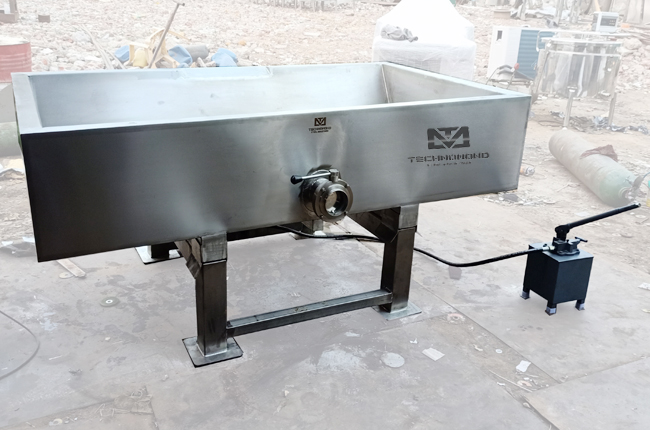 V Tilting Bratt Pan
Technical Details :-
Capacity Range : 200 Ltr to 2,000 Ltr
Material : SS 304/316
Operate : Steam Operating
Hydraulic Time : One Minute
Insulation : Glass wool
Type : Manual and Automatic
Features : Easy Maintenance, High Efficiency, Stainless steel, Easy to Handle
Tilting Bratt Pan Price
Technomond Steel Industries is update new product of Tilting Bratt Pan. We made this item complete stainless steel material with 304 grade SS material. It is steam operator machine. You can steam or heat or vagetable gravy, noodle, tomato catchup etc. You can operate this machine by Hydraulic (watch in vidoe). We are dairy machine industry. We are manufactured all dairy plant item and stainless steel products. Bratt pan temperature is between 50 ºC and 325 ºC. This pan is manufactured and designed in stainless steel material, is cocked by a lever and loaded by the work of a solenoid valve.
Tilting Braising Pan Manufacturers
We are manufactured and sell best quality Tilting Braising Pan for our customer specifications. This Bratt Pan is durable, energy efficient and easy to maintain by client. We are offering best quality Tilting Bratt Pan for our client as per their specifications. It is specially designed to tilt using compact gear box and spring loaded dead weight mechanism for lifting the lid.
---