Mobile Milk Vending Machine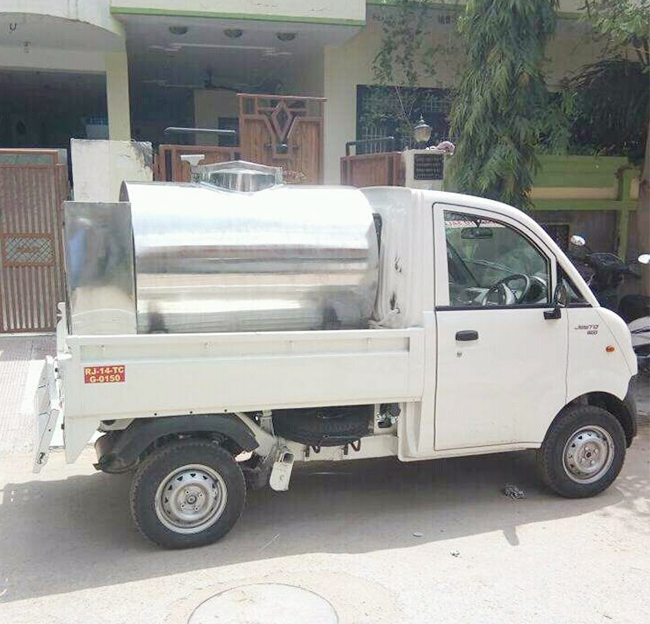 Mobile Milk Vending Machine
Technical Details :-
Capacity Range : 100 Ltr to 2,000 Ltr


Material : SS 304/316


Calibration : Card and coin accepter


Special Feature : Glass View
Mobile Milk Vending Machine Manufacturers
We are proud to present one of the only successful manufacturers of Mobile Milk Vending Machine in India for selling loose milk. We have customize solution specially designed as per customer requirement. Our solutions starts from simple manual milk vending to electronic high speed loose milk dispensing and also available Mobile Milk Vending Machine which can be fitted on tricycles and other models which can be mounted on motor vehicles.
Our customer-friendly Milk Vending Machine Suppliers / milk dispensers are of commercial quality and fully automatic and extra-ordinarily compact and reliable due to the use of highest quality components. Further, we are sourcing the best-suited components for developing the high performing machine which is accessible from us with dispenser options.
We have firm allegiance in developing finest grade Mobile Milk Vending Machine Manufacturers. We have developed a state of art infrastructure to develop the innovative range of milk vending machine that is widely popular for its robust design and ease of use. The offered machine is widely installed at dairy farms and milk dispenser shops. Designed and developed at our well-integrated setup the offered machine comes in various milk capacity.
Milk Vending Machine
Owing to the sprawling infrastructure, we have been successful in catering to the variegated requirements of the customers by providing a wide range of fresh Milk Vending Machine. Our vendors manufacture this range keeping in mind the industry set quality polices and making uses of high-grade raw-material. This dimensional accurate and long life range is available in various designs, sizes and specifications, to meet the variegated requirements of our clients. We offer 4 Option fresh Milk Vending Machine Manufacturers, 12 Option fresh Milk Vending Machine, 10 Option fresh milk Vending Machine and many more in this range.
Milk Vending Machine Suppliers
The statutory body mandated with regulating this business is the, India Dairy Board (IDB) and the relevant county government licensing departments. Identify a dependable Milk Vending Machine Suppliers of good quality milk such as dairy farmers and farmer cooperatives which supply pasteurized milk at a good price. Practice high standards of hygiene to maintain freshness. With pasteurized milk costing some kshs 50 to 55 to you can dispense milk at Ksh60 – Ksh70 per litre. Good customer service is critical and follow strict maintenance schedules to ensure long life for your valuable Milk Vending Machine Manufacturers. Keep a good supply of coins to exchange with notes for those who come with bigger denominations an assistant to operate the dispenser or to exchange bigger denomination with coins.
Price: 120,000 (Negotiable)
Availability: In Stock
Condition: New
Product ID: TSI-MVM123