Milk Pasteurizer Machine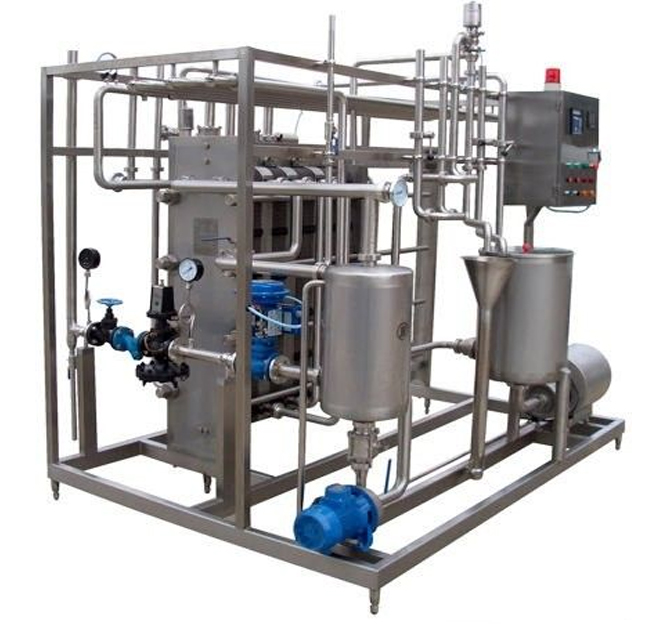 Milk Pasteurizer Machine
Technical Details :-
500 to 2000 Lt. Milk pasteurizer manual operating system skid
List of material we used in skid:-
1) 500 to 2000 Lt. Milk pasteurizer
2) SS pipe frame structure
3) balance tank (as per size)
4) Inline filter
5) Flow control valve (manual)
6) 14 sec. holding time tubes
7) Electrical panel with temperature indicator and starter
8) In skid legs we should provide height adjusted ball fit
9) We should provide require hot water and chill water valves.
मिल्क पस्टेयरीज़ेर मशीन
मिल्क पस्टेयरीज़ेर मशीन का इस्तेमाल आप मिल्क को गर्म और ठंडा करने में किया जाता है। मिल्क पस्टेयरीज़ेर मशीन के द्वारा आप दूध को कई सप्ताह तक बिना ख़राब हुए रख सकते हो। अपने देखा होगा जो आपको बाजार में पैकेट में दूध मिलता है। वो दूध कई दिन तक खराब नहीं होता है। उस दूध को मिल्क पस्टेयरीज़ेर मशीन के द्वारा पस्टेयरीज़ेर किया जाता है। फिर उस मिल्क को पैकेट में भरा जाता है। ताकि दूध की लाइफ लम्बी रहे। इस मशीन को हम 250, 500 और 1000 LPH की मात्रा में बनाते हे। आप चाहो तो इस मशीन को अपने अनुसार की भी मात्रा में बनवा सकते हो। हम म को पूरा स्टेनलेस स्टील में बनाते हे जिस से ये मशीन कई सालो तक चलती है। दूध मिल्क पस्टेयरीज़ेर मशीन उत्पाद उपभोक्ताओं द्वारा सीधे उपयोग के लिए दूध और क्रीम से बने तरल उत्पाद हैं। उत्पादों के इस समूह में संपूर्ण दूध, स्किम दूध, मानकीकृत दूध और विभिन्न प्रकार की क्रीम शामिल हैं।
Milk Pasteurizer Machine Manufacturers
We choose a large section of Milk Pasteurizer Machine in 2 volume to 50 volume with complete high grade stainless steel these products. If you are decided for purchase milk pasteurizers machine, we hope that you choose knowledgeable company that they can assists you machinery parts and trouble shooting. Some companies import these machine from China, USA at cheaper price with low quality materials. But They do not have best quality products and availabiliy machinery parts. They can not provided good customer service. We made Milk Pasteurizer Machine with high grade SS material according to customer. Our aim that client satisfaction not for money.
The Milk Pasteurizer Machine Suppliers of Dairy Equipment is equipped with regeneration selection, which means that warm milk is used to heat up cold milk before it enters the pasteurizing part. This ensures low energy costs. A Electrical digital system recorder keeps track of temperature of milk in the Milk Pasteurizer Machine Price at all times.
Milk Pasteurizer Machine Suppliers
Use of Milk Pasteurizer Machine You are used to heat and cool the milk. You can keep the milk unhealthy for several weeks by using a milk pasteier machine. You have seen that you get milk in packets in the market. That milk is not bad for many days. That milk is made of a pasteurizer by a milk pasteier machine. Then that milk is packed in the pack. So that the milk life is long. We make this machine in the amount of 250, 500 and 1000 LPH. If you want, you can make this machine as much as you can. We make moles in complete stainless steel, which makes this machine run for many years.
Milk Pasteurizer Machine Manufacturers Products are liquid products made from milk and cream for consumers to use directly. This group of products includes whole milk, skim milk, standardized milk and various types of creams. The processing of the milk Milk Pasteurizer Machine Manufacturers need first-class raw materials and correctly designed lines to achieve the highest quality of the finished products. Gentle handling should be ensured so that valuable components are not adversely affected.
Price: 550,000 (Negotiable) | Availability: In Stock | Condition: New | Product ID: TSI-MPM123