Khoya Making Machine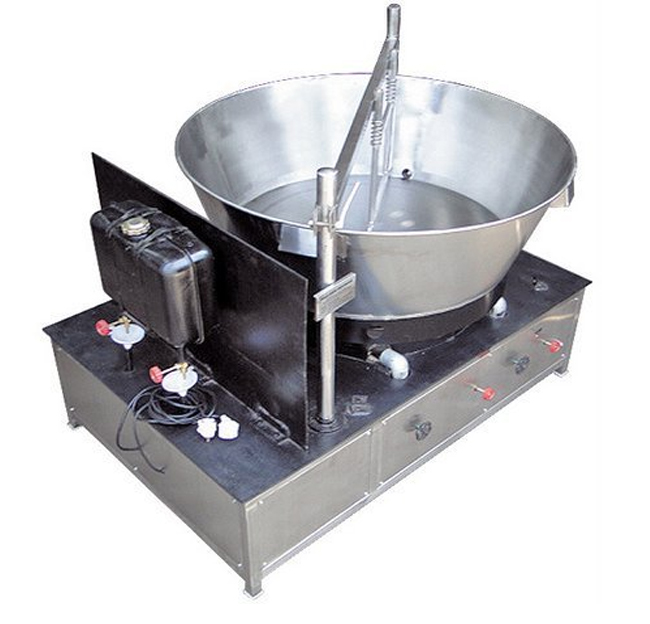 Khoya Making Machine
Technical Details :-
Capacity Range : 50 ltr +


Material : SS 304/316


Khoya Making Machine Price
Khoya Making Machine is used to prepare fresh and healty Khoya which is used in Indian sweets like Rasgulla, Ghewar, Gaajar Ka Halwa and more. You can operate this machine by LPG Gas, Diesel and Electric. Easy to used with low maintenance machine. This machine and vessels are made of Stainless Steel material and uses natural gas, oil, diesel oil for operations. We are manufactured customised in various capacity and sizes according to customer requirements. We give best service after selling this khoya making machine. We made best quality material, easy maintenance, mirror finishing work with high efficiency low cost price according to clients.
Khoya Making Machine Manufacturers
We are manufactured khoya making machine at cost-effective prices with best quality stainless steel to serve small scale preparation and young businessmen. We also exports khoya making machine in The United States, China, Japan, Germany, United Kingdom, India, France, Brazil, Italy, Canada, South Korea, Russia, Australia, Spain, Mexico, Indonesia, Turkey, Netherlands, Saudi Arabia, Switzerland etc. countries.
Mawa Making Machine
We manufacture and Supply Khoya making machine price in different capacity. We have two model of khoya making, GAS Model and Diesel model. Manufactured using high grade material, these machines have 0.5 to 1.5 HP motor with gear box. Further, containers of offered machine have capacity of 130 liters to 350 and have bottom plate to 8 to 16 mm. Also, we are offering these machines in manual and motorized tilting type.
खोया मेकिंग मशीन
खोआ बनाने की मशीन का उपयोग ताजा और चंगा करने के लिए किया जाता है खोआ जो कि भारतीय मिठाइयों में इस्तेमाल किया जाता है जैसे रसगुल्ला, घेवर, गाजर का हलवा और बहुत कुछ। आप इस मशीन को LPG Gas, Diesel और Electric द्वारा संचालित कर सकते हैं। कम रखरखाव मशीन के साथ प्रयोग करने में आसान। यह मशीन और बर्तन स्टेनलेस स्टील सामग्री से बने होते हैं और संचालन के लिए प्राकृतिक गैस, तेल, डीजल तेल का उपयोग करते हैं। हम ग्राहकों की आवश्यकताओं के अनुसार विभिन्न क्षमता और आकारों में अनुकूलित निर्मित हैं। हम इस खोआ बनाने की मशीन को बेचने के बाद सबसे अच्छी सेवा देते हैं।