Bulk Milk Cooler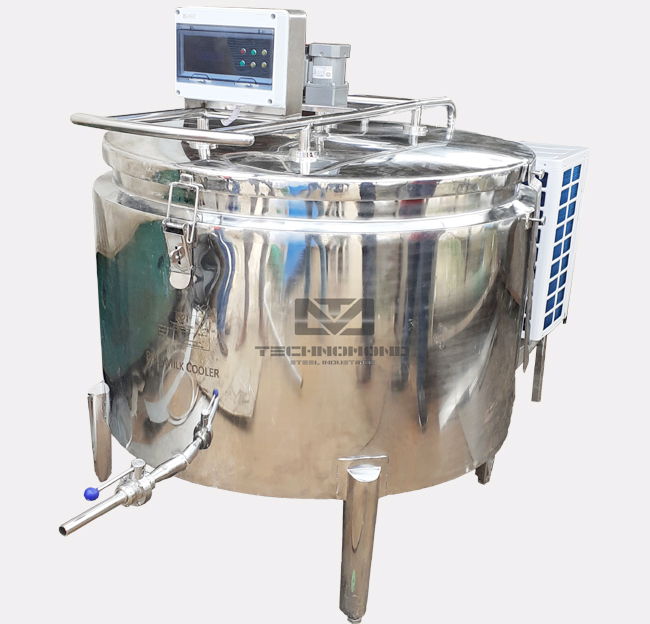 Bulk Cooler for Milk
Bulk Milk Cooler Technical Specification
Material : SS 304/316
Size : 200 - 10,000 Ltr
Shape & Orientation : Vertical cylindrical open type
Type of refrigerant : R22/R-404
Type of insulation : By injection – CFC Free High density PUF, 40 kg/cu.m
Insulation Efficiency : At 50deg.C ambient, the rate of rise of mean temperature of milk initially at 4deg.C shall not exceed 1deg.C in 4 hours when rated volume is allowed to standstill as per requirement of ISO 5708 2A(II)
Bulk Milk Cooler Manufacturers
Technomond Steel Industries is a branded name. We are the manufacturing, and supplying a various range of Bulk Milk Cooler in India. Our milk equipment machine ranges from 300 litre to 10,000 litter. They feature to survive the milk at the 4 degrees Celsius. Hereby, they can keep away all bacteria injurious and virus, fungus that may muddy the milk or destroy it. We make completely economical Bulk milk cooler with ss materials.
Bulk Milk Cooler Working
On account of the expertise of our industrious engineers and technicians, we are able to trade, manufacture and supply our clients and customers high quality Bulk Milk Cooler Manufacturers. We are provided Bulk Milk Cooler is manufactured under the rigid awareness of our proficient engineers at our well manufacturing unit plant making use of high grade quality SS materials and current method as per the already mention industry international standards. In addition in BMC, our offered BMC cooler is variously used in milk processing plant for cooling and chilled milk in a large quantity unit.
बल्क मिल्क कूलर
दूध का संग्रह केंद्र का सबसे महत्वपूर्ण हिस्सा बल्क मिल्क कूलर है। जब दूध निकाला जाता है, तो यह लगभग 37 डिग्री सेल्सियस पर होता है। यदि निष्कर्षण के बाद दूध कमरे के तापमान पर बना रहता है, तो बैक्टीरिया की वृद्धि दूध की गुणवत्ता को प्रभावित करेगी। निर्धारित समय में दूध को 4 डिग्री सेल्सियस तक ठंडा करने के लिए बल्क मिल्क कूलर का इस्तेमाल किया जाता है। बल्क मिल्क कूलर विभिन्न प्रकार के आकारों में उपलब्ध है। हम बल्क मिल्क कूलर को गोल डी शेप और अंडाकार आदि डिज़ाइन में बनाते है। हम भारत के नंबर 1 मनुफक्चरर्स और सुप्प्लिएर्स बल्क मिल्क कूलर के निर्माता है। हम बल्क मिल्क कूलर को स्टेनलेस स्टील में बनाते है। आप दूध को 18 से 48 घंटे तक ठंडा रख सकते हो। साथ ही आप दूध को स्टोरेज भी कर सकते हो।
Bulk Milk Cooler Price
In order to satisfy the several experts of customers, we are offering prime quality Bulk Milk Cooler Suppliers. Our offered cooler is manufactured and developed using prime grade components and sapient technology under the guidance of skilful technicians and engineers. To keep in mind the divers demands of the protector, the provided cooler is rigorously checked on several measures of quality to avoid any kind of defect in compliance with set industry standards and norms.
Bulk Milk Cooler 500 Ltr Price
Bulk Milk Cooler Price - The most important part of the milk collection center is bulk milk cooler. When the milk is extracted, it is around 37 degrees Celsius. If milk remains after room temperature after extraction, then the growth of bacteria will affect milk quality. Bulk milk coolers are used to cool the milk to 4 ° C in the prescribed time. Bulk Milk Cooler is available in different sizes. We make Bulk Milk Cooler in the design of Round D Shape and Oval etc. We are the makers of India's No.1 Manufacturing and Suppliers Bulk Milk Coolers. We make bulk milk coolers in stainless steel. You can keep the milk cool for 18 to 48 hours. You can also store milk as well.
Price: 120,000 (Negotiable)
Availability: In Stock
Condition: New
Product ID: TSI-BMC123
Bulk Milk Cooler 200, 300, 500, 1000 Litre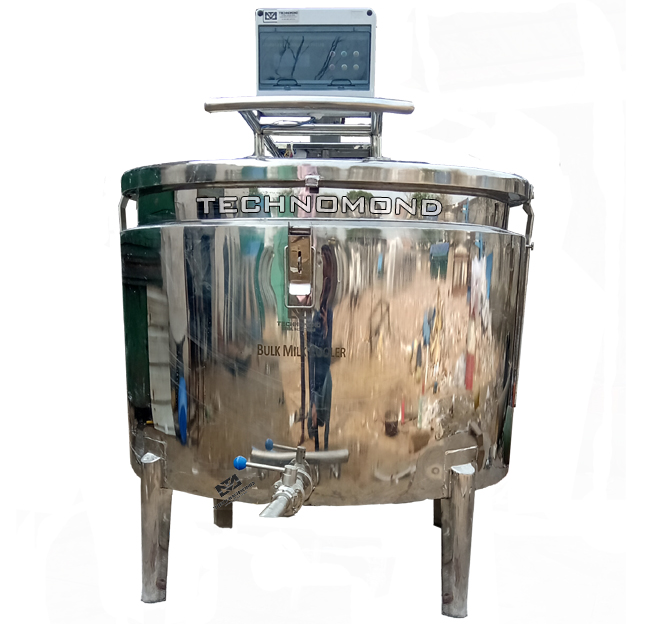 Technical Specification
Material : SS 304/316
Capacity : 200 Ltr, 300 Ltr, 500 Ltr, 1000 Ltr
Gross Capacity : 220 Ltr, 340 Ltr, 550 Ltr, 1050 Ltr
Shape : Vertical Cylindrical or DX Shape
Type of refrigerant : R22/R-404
Thermo/Dimple Plate: At Home Manufactured
Thickness IN/Out: 2MM / 1.5MM
Insulation Thickness: 50mm
Compressor: Copeland Emerson
Temp. Range: 35 > 4 Degree C
Power: Single/Three Phase
Panel: Digital and Automatic Setting
---
Bulk Milk Cooler 2000, 3000, 5000 Litre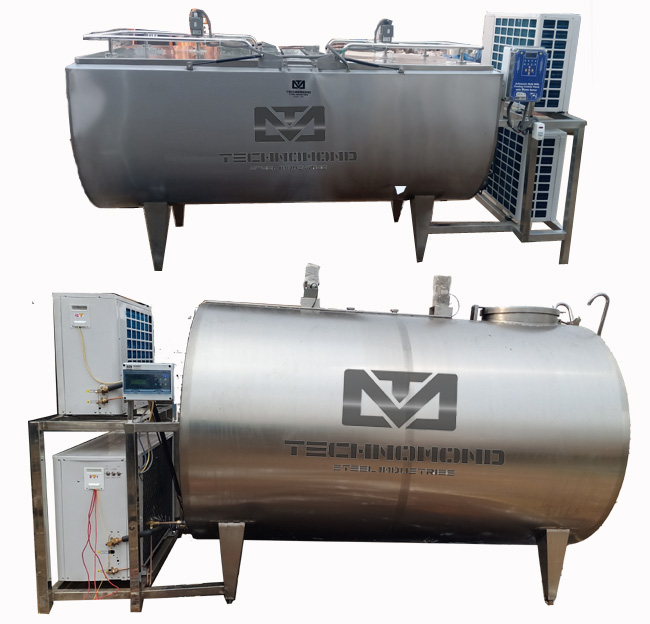 Technical Specification
Material : SS 304/316
Capacity : 2000 Ltr, 3000 Ltr, 5000 Ltr
Gross Capacity : 2100 Ltr, 3180 Ltr, 5190 Ltr
Shape : Horizontal Cylindrical or DX Shape
Thermo/Dimple Plate: Manufactured At Home
Thickness IN/Out: 2MM / 1.5MM
Insulation Thickness: 70mm
Compressor: Copeland Emerson Kit
Temp. Range: 35 > 4 Degree C
Power: Three Phase
Panel: Digital and Automatic Setting