Bulk Milk Cooler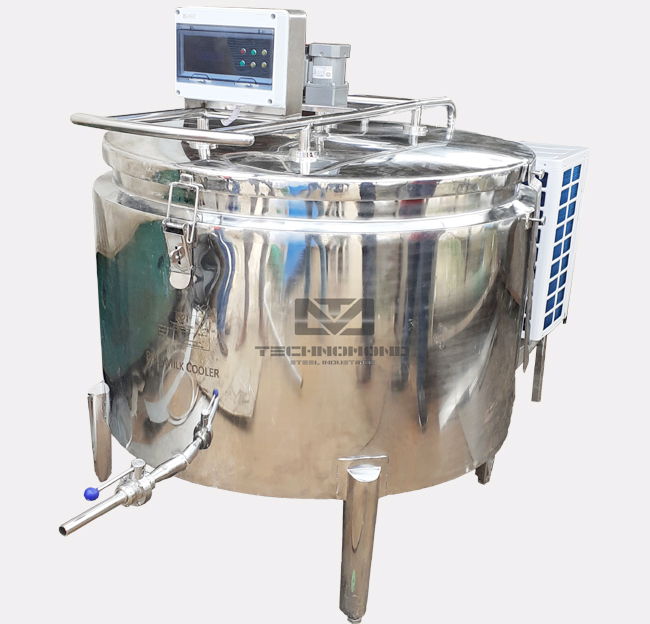 Bulk Milk Cooler
Technical Details :-
Material : SS 304/316


Shape & Orientation : Vertical cylindrical open type


Type of refrigerant : R22/R-404


Type of insulation : By injection – CFC Free High density PUF, 40 kg/cu.m


Insulation Efficiency : At 50deg.C ambient, the rate of rise of mean temperature of milk initially at 4deg.C shall not exceed 1deg.C in 4 hours when rated volume is allowed to standstill as per requirement of ISO 5708 2A(II)
Bulk Milk Cooler Manufacturers
Technomond Steel Industries is a trusted name when it comes to manufacturing, and supplying a wide range of Bulk Milk Cooler in India. Our milk equipment ranges from 1000 litres to 10,000 litters. They feature to preserve the milk at the degrees of 4 Celsius. Thus, they can keep away all injurious bacteria and microorganisms that may contaminate the milk or destroy it.
Owing to the expertise of our diligent technocrats, we are able to manufacture, trade and supply our clients high grade Bulk Milk Cooler Manufacturers. The provided cooler is manufactured under the stern vigilance of our skilful engineers at our well-equipped manufacturing unit making use of superior quality components and contemporary methodology as per the predefined industry standards. In addition to this, our offered cooler is widely used in milk processing unit for cooling milk in a large quantity.
Bulk Milk Cooler Suppliers
In order to satisfy the several preferences of customers, we are offering superior quality Bulk Milk Cooler Suppliers. Our offered cooler is manufactured and developed using supreme grade components and sophisticated technology under the guidance of adept technocrats. To keep in mind the numerous demands of the patrons, the provided cooler is rigorously checked on several measures of quality to avoid any kind of defect in compliance with set industry standards and norms.
Are you a dairy farmer? Is your business related the milk industry? Do you often need to store a high quantity of milk? If so, you need bulk milk cooler to preserve milk in a hygienic manner with its nutrients. Bulk Milk Cooler is best when fresh chilled at source and you can keep it the best by storing it at a proper place. This is why; you need a bulk milk cooler.
So, if you're a dairy farmer or run a hotel, you may require delivering the milk at collection centers. With our quality and guarantees bulk milk cooler, you're able to store milk a favorable temperature that prevents spoilage.You will thus enjoy huge profits. Suppose, you can produce 1000 litres of milk every day. It is assured of you will reap a good profit since no micro-organisms will destroy the milk.