Dairy Farm Equipments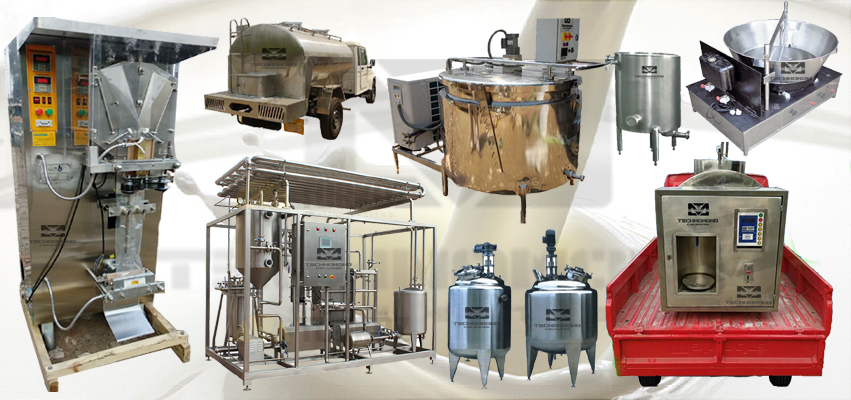 We are established in Dairy Equipments company since 1998 at Shiv Vihar, Vikas Nagar, New Delhi, India. We are certified with ISO:9001:2015 for the following scope of activities with quality management system in "Manufacturing, supply and export of ss milk tank, Road Milk Tanker, Milk Silio Tank, Milk Pasteurizer, Water Vending Machine with RO, Milk ATM Machine, Paneer Press, Milk Scale, SS Mixing Tank, Water Tank, Hot water, Bulk Milk cooler, homogenizer etc. We offer Dairy equipment machines for the customer which are manufactured with durability and accuracy. Our products give best performance in market. We deliver products and machinery on the time and careful consideration.
Utilities of Dairy Farm Plant
You can all work by dairy equipment like for milk cooling, pasteurized of milk etc. Dairy farming is so popular and need from past many decades. But Past time, farmers did all the work by hand whereas farmers is working dairy farming by technical machine at the present time. India dairy is very popular day by day and recent days India dairy is very popular in global market. Dairy farming is a business for farmers. It is so organic and natural work.
Why Technomond Steel Industries?
Technomond Steel Industries is leading manufacturers, supplier and exporter in Dairy products and SS tanks. We are manufactured products according to clients stratification. All machines are design with warranty and guarantee 5 years. We are one of the best brand manufacture, supplier of Dairy Equipment Company products and SS tanks With highly experienced experts and modern manufacturing techniques we manufacture these milk and water machine in different grades and specifications based on the industrial standards.
Technomond Steel Industries
We are leading industries of Bulk Milk Cooler, Road Milk Tanker, Milk ATM Vending Machine, Milk Pasteurizer Machine, Paneer Making Machine etc. in all over World manufacturers, suppliers and exporters.